Fire doors save lives and protect property, so it is vital that they are manufactured and installed correctly.
Ahmarra specialise in manufacturing fire rated flush and panelled doors and associated products which meet the requirements of architects, interior designers and clients in the modern arena of prestige construction projects.
The majority of our work is for large scale, new build construction projects for schools, airports, hotels, luxury homes and commercial properties for main contractors such as Balfour Beatty, Morgan Sindall and Willmott Dixon.
Ahmarra Fire Ratings
NFR     Non Fire Rated
FD30    Offering fire resistance for 30 minutes
FD60    Offering fire resistance for 60 minutes
FD90    Offering fire resistance for 90 minutes
FD120  Offering fire resistance for 120 minutes
---
Q-Mark Fire Door Certification
Ahmarra are proud to be certified members of the BM TRADA Q-Mark Fire Door Scheme. This comprehensive certification for timber fire doors ensures that performance, production and installation is checked regularly through audit testing and inspections.
Fire Door Manufacturer Scheme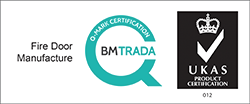 Manufacturers of fire doorsets have a legal requirement to demonstrate the ability of their FSC doors to resist the passage and spread of fire. The Q-Mark Fire Door Manufacturer Scheme has been designed to allow fire door manufacturers to demonstrate that their doors meet the standards required, and to provide ongoing reassurance that their product is fit for purpose.